The Delines
The Sea Drift
Releases Feb 11, 2022.
"The idea for the THE SEA DRIFT began with my and Amy's mutual love of Tony Joe White," says The Delines guitarist and songwriter Willy Vlautin. "We used to have conversations about his records and she'd always joke, 'Just write me Rainy Night in Georgia.' Jesus, what a tall order, but I guess in my own way I started trying."
"Growing up," adds singer Amy Boone, "two of my favorite songs on the radio were Brook Benton's version of Rainy Night in Georgia and Bobbie Gentry's Ode to Billie Joe. I'd never heard Tony Joe White until my early twenties. I remember this old timer saying to me, 'Girl, you mean to tell me you've never heard the original of Rainy Night in Georgia?' That's what I loved about Austin, people actually cared about the songwriters as much as the players. The next day I went out and bought a Tony Joe White album. I remember reading where Tony Joe said he was so influenced by the realness of Ode to Billie Joe that he set out to write a song that was real to him and that song turned out to be Rainy Night in Georgia. So when Willy said he wanted to use White's song as an inspiration for The Delines' next record, I was instantly hooked on the idea."
With the seeds of THE SEA DRIFT planted, Vlautin and Boone began talking about the ideal setting for the songs – Texas, where Amy lived for years, and also the Gulf Coast, which they both love. Vlautin started writing songs set in that area and soon the band decided to create a whole record in that world, a record drifting up and down the Gulf Coast.
"I think the songs on THE SEA DRIFT have the kind of 'realness' that Tony Joe was after, romantic realism," says Amy. "When Willy would talk to me about his new batch of songs set on the Gulf Coast I remember thinking, is he talking about The Delines' next record or is he writing a screenplay?"
Using longtime producer John Morgan Askew and working for the first time in his new studio, Bocce, the band leaned on the rhythm section of bass player, Freddy Trujillo and drummer Sean Oldham to get the sound right. Vlautin says, "With Freddy you have one of the best soul bass players around and Sean's a seriously cool jazz drummer and a great arranger. Together they're so damn good and they created the groove and feel of record. THE SEA DRIFT sessions were also the first time since Amy had been injured that she felt strong and confident in the studio, and you can really hear it on this record. There's strength to her voice, the strength of someone who's overcome a lot of trauma and pain. This record has her best vocal takes to date. They're just amazing."
THE SEA DRIFT also features Cory Gray's trumpet and string arrangements as well as two original trumpet instrumentals. "When he brought in the two laments, I was just floored," says Vlautin. "And with them we immediately knew how to end each side of the record." Gray adds, "I worked up some arrangements that gave a nod to a traditional soul sound. THE SEA DRIFT is our most visual record yet. The lyrics are vignettes and the instrumentation, including the dramatic string and horn parts, are meant to evoke the mood as if it were a film."
THE SEA DRIFT is the world of The Delines set on the Gulf Coast. From Little Earl, the tale of two brothers fleeing a convenience store after a shop-lifting-gone-wrong-incident, to Drowning in Plain Sight, where a middle-aged woman drives aimlessly outside of Galveston unable to go home to her waiting family. In All Along The Ride you're in the car as a couple's relationship disintegrates on a drive back from Corpus Christi. There's the cinematic Surfers in Twilight, the tale of a woman leaving work to find her boyfriend arrested on a seaside boardwalk, to the 60's pop of Kid Codeine and the soul romance of Hold Me Slow and Saved From The Sea. Past the Shadows is the self-destructive dream of the never ending night and This Ain't No Getaway is an edge-of-your seat domestic drama where a woman gets the last of her belongings from an abusive boyfriend's apartment declaring, "Even if the police are called, I'm gonna leave not escape, because this ain't no getaway."
The Delines are led by vocalist Amy Boone (The Damnations TX), with keyboardist and trumpeter Cory Gray, drummer Sean Oldham, bassist Freddie Trujillo, and guitarist Willy Vlautin (Richmond Fontaine). Vlautin is no stranger to critical acclaim in the US, UK, and Europe, enjoying cult success and rave reviews from the likes of the New York Times, Uncut, Hot Press, Rolling Stone and Mojo Magazine, both as a novelist with six books under his belt, and as the former front man of alt-country outfit Richmond Fontaine.
The Imperial

Sometimes, fate's just a damned cruel thing. When it nearly capsizes the career of an
acclaimed band in the blink of an eye, the band's only prudent choice is to hang in there until
the ship is ready to sail again. That's what The Delines did while supporting the recovery of
lead singer Amy Boone. Amy underwent three years of treatment and rehab after both her
legs were severely broken when she was hit by a car in Austin, Texas. What sustained their
spirit, according to guitarist and songwriter Willy Vlautin, was knowing they already had most
of their sophomore album, The Imperial, in the can.
Not quite three years after their momentum was so rudely interrupted, the band will finally
release The Imperial on January 11, 2019, picking up where they left off following their stellar
2014 debut, Colfax. Like that album, The Imperial features Damnations, TX co-founder
Boone evoking a beat-up Dusty Springfield or a weary Rickie Lee Jones on 10 tracks penned
by Vlautin, who is also lead singer/songwriter for Richmond Fontaine and an acclaimed
novelist (two of his books have become major films).
To say they're looking forward to sharing it with the world is a bit of an understatement. "It's
been a slow, hard recovery for Amy," Vlautin notes. "It's amazing how tough she is. It took us
a long time, but The Imperial is finally done and The Delines get to be a band again."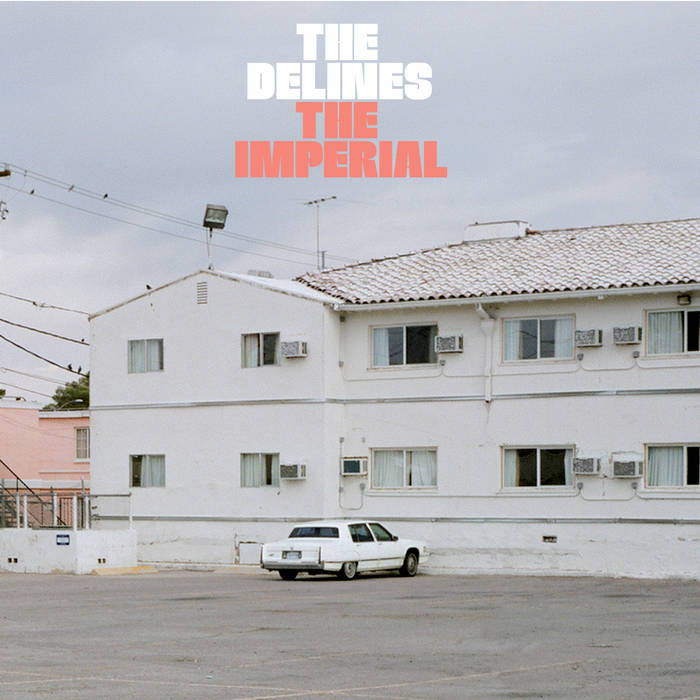 Colfax
The debut album from The Delines, Colfax is a  timeless collection of songs with the intimacy of a midnight confessional. Like a beat-up Dusty Springfield after too many long nights working a dreary after-hours bar, Colfax has the skid row heart of Tom Waits, the street-tough weariness of early Rickie Lee Jones, and the cool, laid back sound of Mazzy Star. 
The Delines features Amy Boone (Damnations TX) singing songs by Willy Vlautin (Richmond Fontaine).
Cast:
Willy Vlautin; guitar, songs
Amy Boone; vocals, piano
Sean Oldham; drums
Tucker Jackson; pedal steel
Freddy Trujillo; bass
Jenny Conlee-Drizos; keyboards
Collin Oldham; cello
Deborah Kelly; vocals
Michael Crow; swell fella, Austin engineer
John Askew; producer
Praise for "Colfax"
Boone's got the kind of voice you might hear in a bar that hasn't seen daylight since the roof went on, where it's always a long time ago on a jukebox that plays only country and western, five cents a teardrop.
Allan Jones, Uncut Magazine. 9 out of 10
The lyrics of these eleven songs effectively vivid short stories populated by bruised characters. Musically, it's country soul territory, with Boone a damaged Dusty Springfield in I Got My Shadows and a desperate Bobbie Gentry combing the night streets for her drunken missing brother in Colfax Avenue.
Tom Doyle, Q Magazine. 4 Stars